Whatever your size or industry, one thing is sure; SAP change management can be a challenge. Managing SAP change in even the smallest of SAP environments is messy. That's why we created Rev-Trac ONE.
Keeping up with the required velocity of SAP change, tighter budgets, audit compliance, and offshore and remote workforces — are just some of the issues SAP IT teams come up against daily.
And for more than 20 years, we have helped organizations simplify change management to deliver better, faster, and safer SAP applications and enhancements. More recently, our flagship product Rev-Trac Platinum has become the DevOps orchestration centerpiece for many of the world's largest SAP organizations.
Rev-Trac ONE is explicitly designed for SAP IT teams running single development system ABAP-based SAP applications, ensuring the fast, safe delivery of SAP change.The solution is configured out-of-the-box and includes all the features needed to automate and enforce your SAP change management processes while maintaining production system stability.
Who is Rev-Trac ONE for?
Does your organization run a single development landscape? Are you a project lead and want to control SAP change for single development system ABAP-based applications? Or, do you have a complex SAP environment with multiple landscapes, and you wish to manage the landscape that runs a single development system?
If you answered yes to any of the scenarios, then Rev-Trac ONE can help you to manage SAP change effectively and respond quickly to business needs without risking the production system. With Rev-Trac ONE you can:
Maintain consistency of SAP change management processes,
Meet delivery deadlines, and
Achieve agile and SAP DevOps initiatives
Yes, SAP DevOps is possible!
Is SAP DevOps on your agenda? Even in the smallest of SAP environments, SAP DevOps can be a reality.
Rev-Trac ONE allows SAP IT teams to combine disparate systems and processes onto one unified platform for consistency, efficiency, and across the board automation. The software orchestrates an end-to-end SAP ALM process that ensures the right technology is deployed at the right time.
Our change management software integrates bi-directionally with popular ALM tools like Jira and ServiceNow. The integration enables Rev-Trac ONE to administer and enforce the use of your critical development lifecycle software. The result: siloed legacy systems and processes connected into a single automated toolchain enabling more high-quality SAP change, more often at significantly lower costs.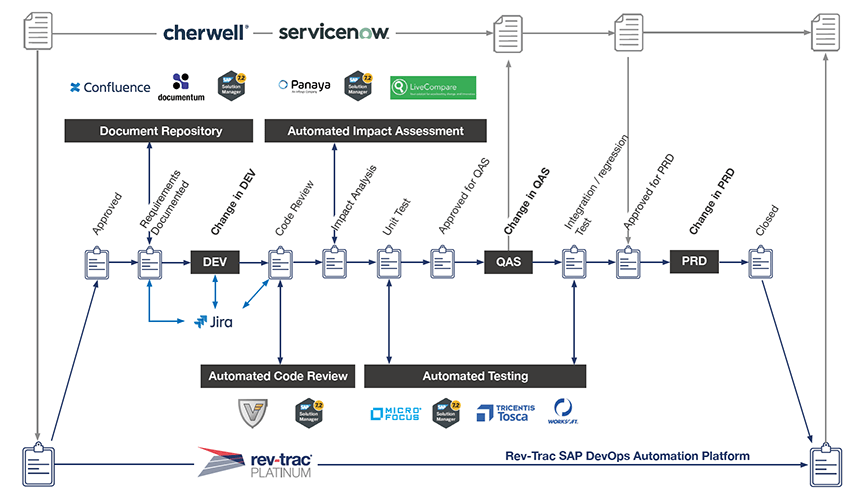 Why choose Rev-Trac ONE?
Rev-Trac ONE combines specially selected features from Rev-Trac Platinum to prevent production downtime through transport management, conflict prevention, and SAP change process control.
The robust suite of features enables rapid ROI, with users able to eliminate the use of spreadsheets to manage SAP transports and an accidental system shutdown.
Rev-Trac ONE is simple to install, easy-to-use, and can be rapidly ramped up to deliver frequent,  SAP changes in no time at all. The software lives inside the SAP environment as a certified ABAP add-on and gives SAP IT teams full control and visibility over all SAP changes within the solution landscape.
Fully integrated change control automation facilitates the adoption of SAP DevOps to improve productivity and increase the transparency of an SAP application's lifecycle.
Other benefits of Rev-Trac ONE include:
Ensure process compliance through enforcement, improving change quality and reducing audit effort by more than 90 percent
Automated transport migration and sequencing with advanced conflict management and overtake and overwrite protection (OOPS) for total system safety and quality assurance
Necessary tools to ensure cross-team collaboration to deliver SAP changes at a rapid rate, receiving alerts when affecting common objects
Integrated change intelligence for complete visibility into custom ABAP code and objects to avoid system outages
Rev-Trac ONE is available now. For more information, visit Rev-Trac ONE solution or contact one of our change management experts.