What are our customer's plans for their transition to S/4HANA? Every year we conduct a TechValidate survey with our customers for insights on their business and how Rev-Trac used, and what they think of the automated solution.
In the latest survey, we asked customers about their S/4HANA strategies and the results were mostly in line with expectations with just a few surprises. So, what is the current situation?
What is your S/4HANA strategy?
For our customers whose transitions are well on the way, the Brownfield approach is the most popular (40%), followed by Greenfield (18%), and then Bluefield (9%).
Of those who responded, 33% had no current plans in place to shift to S/4HANA
When it comes to deployment options, the On-Premises approach ranked highest with 33% choosing this method for their migration.
While HEC (10%) and Azure(9%) were the next most popular options. Single Tenant Edition (5%) and Public Cloud (2%) were the least popular, with almost 40% undecided.
Do you have a transition plan?
There is no doubt that S/4HANA is on people's minds and we received interesting responses to the question regarding transition plans.
Just over 50% have transition plans within the next one to five years. I expect that timeframe will be slightly pushed out since our survey took place before SAP announced the extension of the S/4HANA deadline from 2025 to 2027.
About 10% have already transitioned or are currently doing so. Only 3% have no intention to move to S/4 HANA and about one-third are still trying to figure it out.
It's interesting to compare our customer survey results with several other earlier S/4HANA adoption survey results.
When we compare previous results, we see that ours line up closely with the Resulting IT survey, and to a lesser extent SAP Insider for the short -term candidates.
For undecided businesses and late movers, our results almost align with the Rimini survey.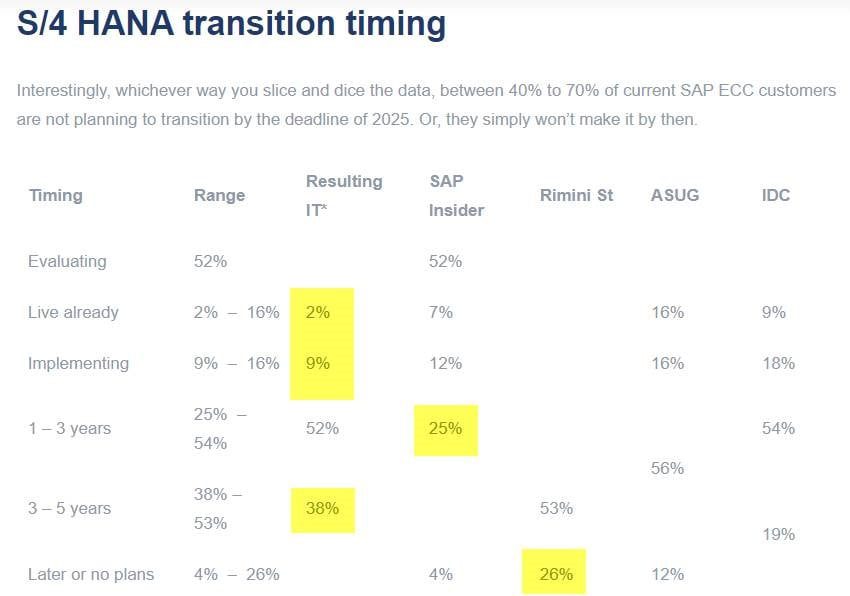 What does this mean for your organization?
Well, it seems to be a coin flip among SAP customers whether they'll be transitioning to S/4HANA over the next few years.
For those who do migrate, it's good to know SAP will support S/4HANA until 2040, at least – with plenty of upgrades along the way.
Automation is crucial for a  successful migration to SAP's new environment. Rev-Trac – an automated SAP change management platform – can help you to simplify and accelerate your S/4HANA journey.
With Rev-Trac, you can effortlessly keep existing SAP ECC and new systems updated and in sync while building your S/4HANA environment while maintaining business continuity.
Whatever your transition plan, Rev-Trac is there to support you on your journey. We've successfully supported Rev-Trac customers on their S/4HANA journeys – whether Greenfield, Brownfield and hybrid/Bluefield – for several years now.
To help you confirm your strategy or migration project, check out our S/4HANA resources. For more information, request a demo with one of our Rev-Trac experts.